Maybe you have read my recent blog on Liberty, our new special-needs Biewer Yorkie with cerebellar hypoplasia. Well, she has been in our home for 3 weeks. It has been an exhilarating, educational, heartwarming,  and introspective time for the family. Bottom line: we love this dog immensely. We can't see life without her. Living with a disabled dog is time consuming and stressful; similar to a human baby. You can't turn your back. Every moment has trepidation associated with it. But, the sense of warmth and purpose and humanity make this activity worth the effort. This animal deserves love. All animals like her deserve love. We know that our care is successful because she is thriving. Plus, with "doggie therapy", Liberty is standing independently and doing rudimentary walking – she has a lot of work to do though. We've had the existential discussion, "what if we didn't take her." The answer is Liberty would have been euthanized. No way, not this dog. She is too precious. Are we crazy to take on this responsibility – maybe. But, this animal deserves to have  a chance. Her little struggling body represents nothing but pure, unadulterated LOVE. If you have a soul, then you can only root for this sweet heart. We are committed to make her succeed. "Give me Liberty or Give me Death" Patrick Henry 1775. This blog entry chronicles the first exciting week with Liberty – and what a week it was!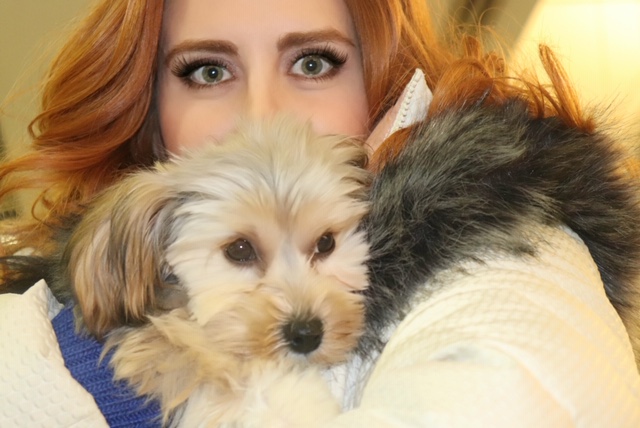 1. The Second Coming of Liberty (Statue was the first)
On November 14, Liberty was set to arrive at LaGuardia at about 6 pm on Southwest. She traveled with her foster parent, Norma. More about Norma later; but, she was the first Angel that we met. Mattie and Tulip, our other Yorkies, were a concern because we were not sure how they would respond to our new family member. Tulip is a little cutie but Mattie is strange around other dogs. We weren't certain how Liberty would respond either. We decided to board Mattie and Tulip for two nights to give Liberty a chance to adjust to the new environment. 
We wanted to travel to the airport in a big automobile because we knew Norma would be traveling with a dog and bags. We ordered a large SUV from our favorite limo company. They sent a stretch. Of course, Liberty is a rock star. Liam, Scott, Paularis, Mattie, Tulip and I get into the limo to start our trek to LaGuardia. Liam loved the neon lights in the car. First, we stopped at Petsmart Pet Hotel on E. 116th St. (in a stretch) to drop off Mattie and Tulip. Then, we drove to the airport. The driver parked the car in front of the terminal in a no-parking zone.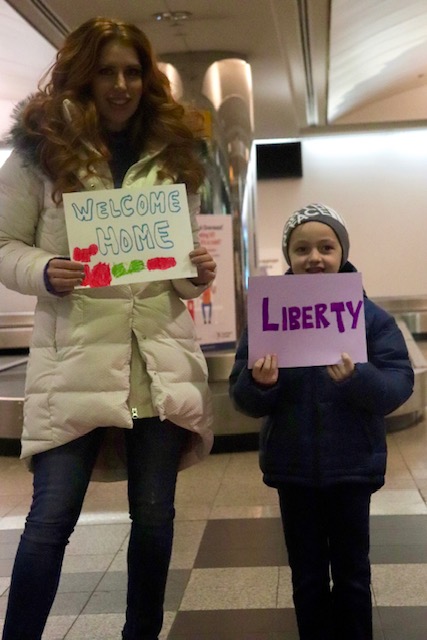 We all walked into the baggage area. We put down a red carpet for the arriving rock star. We had "Welcome Home Liberty" signs. Paularis was working the camera. All eyes were focused on identifying Norma who we have never met. Little did we know that Norma was at baggage watching our crazy behavior. She walked over slowly to us wondering if we were the new family. It was a surprise, wonderful introduction. Liberty was in a sling-bag on Norma's side. I extracted from the sling a small, fluffy, gorgeous little dog that was more beautiful than I could have imagined. I held on tight. Time seemed to disappear. I forgot we needed to go home. We finally collected all our stuff and piled back into the stretch. We then headed home.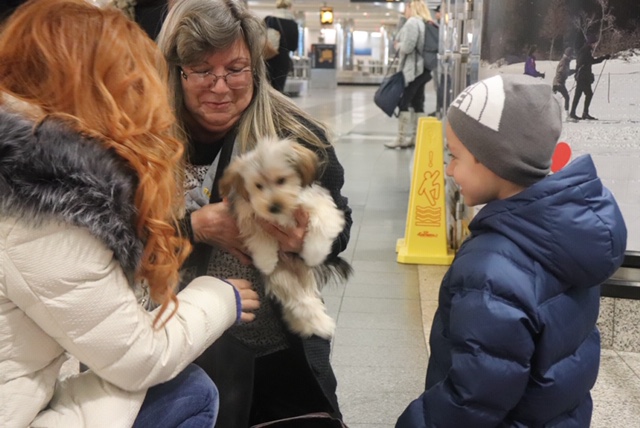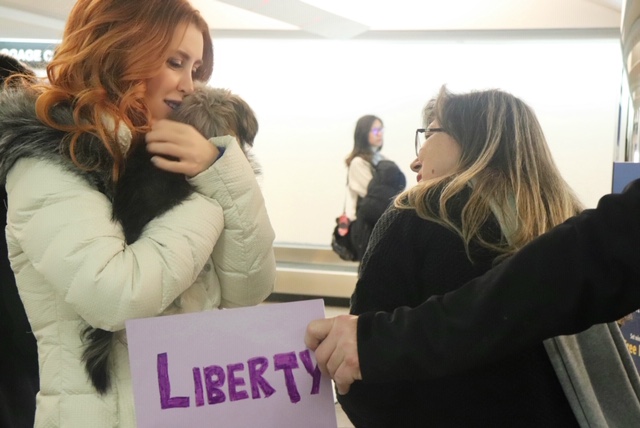 2. Home Sweet Home
The stretch pulled up in front of our brownstone and the Liberty Army got out. Of course, the group was greeted by  balloons and signs welcoming our new addition. Our home was custom-made for Liberty: multiple play-pens, mats,  and toys. We had a custom made doggie wheel chair delivered to the home which we had no idea how to use. We would learn the next day. Most importantly, we wanted to make Norma and Liberty as comfortable as possible as fast as possible. Norma, who lives in California, is a foster parent for dogs rescued by Saving K9 Lives Plus. I wrote about this organization in my last blog about Liberty. Saving K9 Lives Plus (www.Savingk9livesplus.org) is a Los Angeles based charity formed to provide public awareness of the growing population of homeless animals and animals being euthanized in the overcrowded LA shelter systems. Animals are rescued, returned to health, placed in a foster home, then ultimately adopted by a caring family. Norma is intimately involved. Although her approach is somewhat matter-of-fact, she is clearly one of the most caring individuals I've met. She raised Liberty without much fanfare or anxiety. She requires no adulation. Her altruism is off the charts. Angel #1 is in our home. We watched her feed Liberty. The dog sat on her lap with a towel wrapped around the chest. The dog was supported by one hand holding the towel and the other hand held the food out of which the dog eat. This sounds very simple. But, Liberty has cerebellar disease so she can't balance herself and she has difficulty holding her head up. She can't chew food, she licks it. I could assure you that this is difficult to do and Norma invented the technique and made it look second nature. God's work indeed. After we all settled in, we went to sleep with Liberty in one of her new play pens. Day 2 will be much more busy and exciting.