I recently had the opportunity to interview Larissa Wohl of Hallmark's beloved Home & Family.  Larissa is the resident pet rescue expert, advocating for Adoption Ever After and when I saw her introduce my sweet Liberty on the show I just knew Liberty needed to come home with me!  Her talents aren't limited to on-screen; she's also been a news anchor, reporter and producer.  Beyond her credentials, she is also extremely down to earth and genuine.  Read on get to know Larissa a little better…  In addition to lots of talk about dogs (we both just love them!), you may be surprised to learn about her must-have beauty product, the one place in the world she feels the most relaxed and why she doesn't buy designer.  I, for one, am adopting her favorite quote as my mantra for 2019!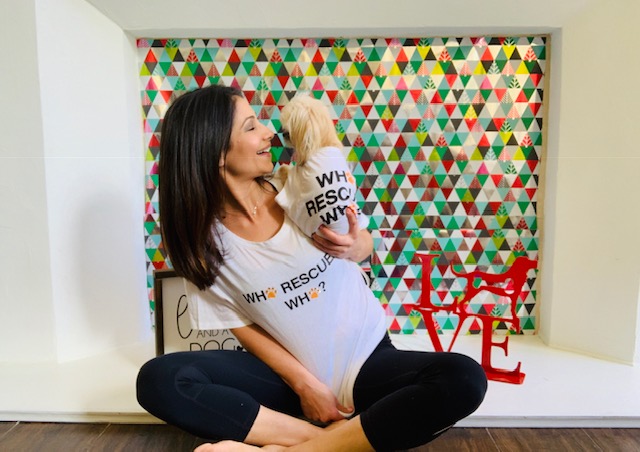 You are the resident pet expert on Hallmark's Home & Family. What drew you to this position?
I was raised by an English mother who had a knack for finding stray animals! We were always finding lost dogs and cats and bringing them home. She also had a soft spot for rabbits and birds, so they somehow found their way to our home as well!
She instilled in me (at a very young age) the importance of fighting for the underdogs of the world. She was all about adoption…especially adopting the ones who had less of a chance of being adopted by the masses.
I previously worked as a news anchor and reporter in various markets and was always drawn to covering animal stories of all types. When I started as a producer at "Home & Family", I never expected to become on the on-camera pet rescue expert. It all worked out when Hallmark Channel decided to become the go-to network for animal rescue and I signed up to help in any way possible! It's been an absolute dream come true and I still pinch myself every day that I work for such an amazing team of people who value the same things I do.
It's because of you I was matched with my special needs baby, Liberty. What, besides adoption, can people do to help shelter animals?
There are so many easy ways people can help on a daily basis.
Even if adopting an animal isn't for you at this time of your life, you can always sign up to volunteer at your local rescue/shelter, foster animals, donate goods that are always in need and even share posts on social media to help spread awareness about the plight of homeless animals.
These animals don't have a voice, so they need YOU to spread their voice and make others aware just how bad this problem still is…even in 2019!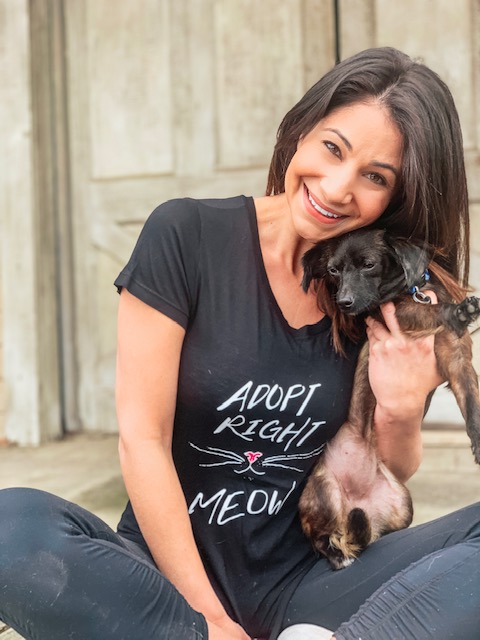 Tell us about your pets and current foster animals.
I have 3 little dogs that were all foster failures…actually I have 4, but one lives with my dad!
Cookie was my first little foster failure who I helped save from Bakersfield's Kern County Animal Care and Control in Central California. She is a very special little lady and she also happened to steal the hearts of my dad and stepmom. So they've now taken ownership and won't give her back!!!
My three other little ones are Muppet, Maple and Piggly. They are all rescues from either Hand in Paw Rescue or Saving K9 Lives Plus Rescue. They are all about 5 pounds of fluff and make me giggle and laugh every single day!!!
My latest foster baby, named Sadie, just got adopted 2 days ago. It was a very bittersweet moment, but I've been getting wonderful updates on her from her new family and she's doing excellent! Fostering is such a wonderful experience and even though it can be challenging, I highly recommend it to everyone!!
You meet so many adorable animals. What was it about your rescue dogs that told you they were meant to be with you forever?
Muppet stole my heart from the second I saw her posted on Facebook by Hand in Paw Rescue. She had been found as a stray and was so ill and anemic. I took one look at her little eyes and sideways ears (that don't make any sense on her) and knew I had to have her. There was something about that photo that just said "THAT IS MY DOG!" I reached out immediately and said "SHE'S MINE!!!" Maple and Piggly were both dogs that I didn't think I was keeping. They were coming to my house for short periods of time…but they both just fit in so well. They all look similar and are the same size and temperament. I have learned what kinds of dogs work for my lifestyle and I make sure to be responsible and realistic when choosing which animals I can keep. I absolutely foster dogs of all sizes, shapes and temperaments but I now that if I'm not the best fit for them in the long run, it's only fair to find the household that is!
I would LOVE to keep them all if I could, but my schedule with work is hectic, so I have to remember to think about what's best for THEM at all times!!!
What can people learn from animals?
This is a wonderful question that has an endless amount of answers. I think that people can learn so much from watching animals and the way they interact with each other and the world. Dogs in particular live in the present moment…and the present moment only. They are concerned with nothing else. It's amazing to watch how simple they are and how the smallest head rub or game of fetch can truly make their day. I also love the fact that they are so resilient. Many rescue animals have come from horrible pasts. Even so, they are so eager to love and be loved. They don't hold grudges and accept and forgive in a way that humans don't.
On the more fun side, I think animals also teach us how to find our inner child. The way a cat or dog can make you laugh by doing something silly enables us to stop stressing about all the millions of little things that go wrong each day! It's a great way to take a break from the craziness of life and remember what truly matters!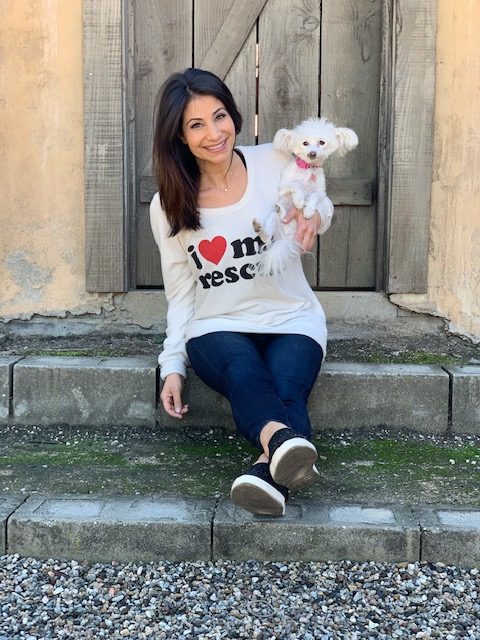 The most rewarding moment of your career so far?
Last month our show put together a highlight reel of all my work with "Adoption Ever After" and it brought tears to my eyes. We've been able to help more then 700 animals find homes through our daily efforts and it's been a remarkable experience.
The fact that I've been one of the forces behind this movement is something I'll never forget!
What's your favorite thing about LA?
I grew up in LA, so I would have to say that having my family close by is the thing I treasure most. I have lived in many other cities and nothing beats being down the street from my dad, stepmom or Grandma. I never feel alone and know that I have a wonderful and loving support system minutes away!
I also love the weather =) I'm a sun worshipper, so I get super depressed when I'm in gray weather!!!
What's the one beauty product you can't live without?
Haha I love this question! I'm absolutely addicted my Burts Bees Chapstick. I know that is totally un-sexy but I can't live without it. It's kind of a problem…
I sleep with one under my bed, I have them in all my pockets and I freak out if I leave the house without one! I really need to work on this haha!
I singlehandedly may be keeping them afloat because I lose so many and have to buy more!
What do you like to do when you aren't working?
Is this really a thing? I feel like I am ALWAYS working!!! I love being active and working out, so that is a priority of mine (when I can!)
I also love being lazy and catching up on TV and Movies because I hardly ever get the chance! In the last couple years, I also got really into ballroom dancing and acro-yoga!
What's your favorite Hallmark Christmas movie?
I can't name just 1! I would have to say any of the movies with dogs in them get my top vote!
What's coming up for you in 2019?
2019 has already been extremely busy. This upcoming month is a big month for me as we have Kitten Bowl, Cat Bowl, American Rescue Dog Show and a Countdown to Valentine's Day Preview Special airing! In addition to that, I'm hoping we hit 2,000 animal adoptions by the end of the year. During my downtime I also make a point to visit as many local shelters as possible. I find the best way to truly see what's going on is to be there in person. It's very important to me to paint a realistic picture to our viewers on a daily basis.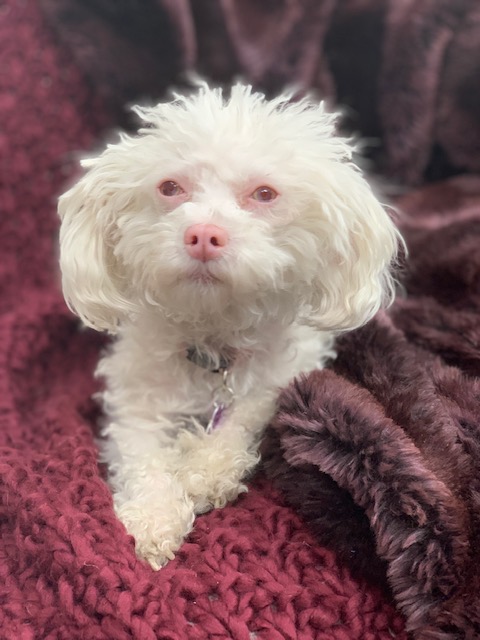 Tell us about your favorite vacation destination.
I love this question. My absolute favorite location is Maui and I just recently got back from a short visit there. My family has been going once a year for almost 20 years and it's truly my happy place.
I love nothing more than unplugging, laying by the beach and reading all day. It is one of the only places I can go and truly feel relaxed, so I would sign up for monthly visits if possible!! LOL.
Who is your favorite designer?
To be honest, I'm not a huge designer gal. Of course, I'd love to buy a few nice purses or shoes, but I also have a hard time spending money on that! I'm more of a bargain shopper and I get super excited when I score a great deal! That said, I wouldn't be one to turn down a gift from Gucci, YSL or Louis Vuitton! Hahah!
Clothing wise, I LOVE Alice & Olivia, Joie, Paige Jeans, Parker, etc…
Oh if money really grew on trees…. =)
What advice would you give to young women who want to pursue a career in television journalism?
I would tell anyone that wants to pursue journalism that it is an incredible field that requires a lot of determination and hard work. True journalism is hard to come by these days and when you find it, you know it! You have to be prepared to leave your home, get out of your comfort zone and expand your horizons. It pays off in the end, but this is a field where opportunities don't come knocking. You have to go chase them down!!! I would also recommend that everyone in television news learn how to be a multi-media journalist. Learn how to shoot video, edit, produce, all of it. It makes you absolutely well rounded and helps give you perspective on what is needed to make a good story turn into a GREAT story!
Favorite quote?
Leap and the net will appear! This has been my favorite quote for years. I remind myself of it often. Sometimes you just have to take that risk and believe it will work out one way or another. When you think about it, things always do, right?