This lady is near and dear to my heart, meet Jasmin Gabay Kimball.  Jasmin, or as I like to call her The Fairy Dog Mother, founded Saving K9 Lives Plus. She tirelessly works the Los Angeles area to ensure no dog is euthanized due to a medical issue, no matter how much time or treatment they may need.  Jasmin is incredibly special to me personally because she saved my sweet Liberty who has brought so much love to our lives.  I can't imagine if she hadn't stepped in.  Check out the blog to read Jasmin's inspirational story of hope and compassion, and see how you can help further her mission no matter where you live.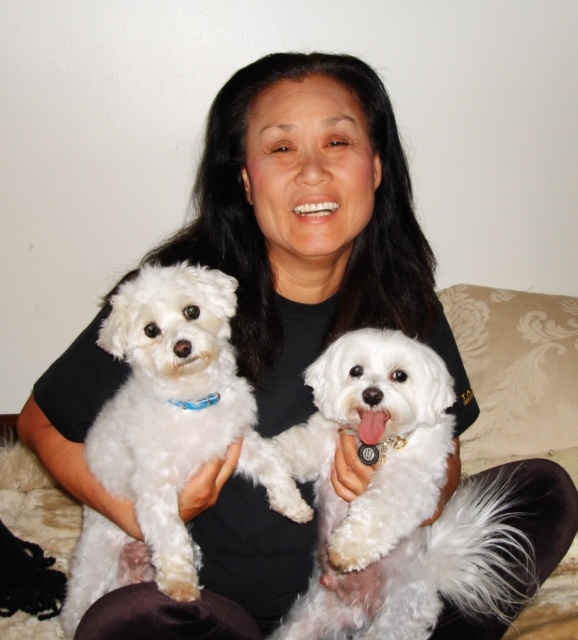 What prompted you and your husband to start Saving K9 Lives Plus?
First I must explain my childhood. My mother grew up in the Korean war. She knew hunger and poverty. Raising 4 children and sending money to help her family in Korea, my mother did NOT feel like caring and feeding a pet was a necessity.  I NEVER had a dog.
Bobby and I went to an adoption event over 11 years ago.  We adopted a little Maltese from a rescue named Simon Sez (my first dog).  Simon was purchased online from a large puppy mill that had been busted on 11 charges.  The person surrendered him because her elder Maltese did not like him.  We had Simon for 5 years, when a friend called me asking if I could help her find a Maltese. 
I heard about animal shelters. I went into my first shelter and my eyes were opened to the crying and sad faces.  Puppies in their fecal matter.  I started volunteering.  I did blanket drives. I started fostering. I was at the shelter when someone was surrendering their maltese. This was my first time rescuing and I gave my friend the dog.
I never planned to run a non profit animal rescue as I kept saying I was going to retire.  When an acquaintance was losing her home, she asked for help finding a home for her breeding Malteses. She gave me 4 AKC puppies.  We found great homes for them.  After 6 months I founded Saving K9 Lives Plus.  A year later, Saving K9 Lives Plus was rescuing medical dogs from the Los Angeles Shelters.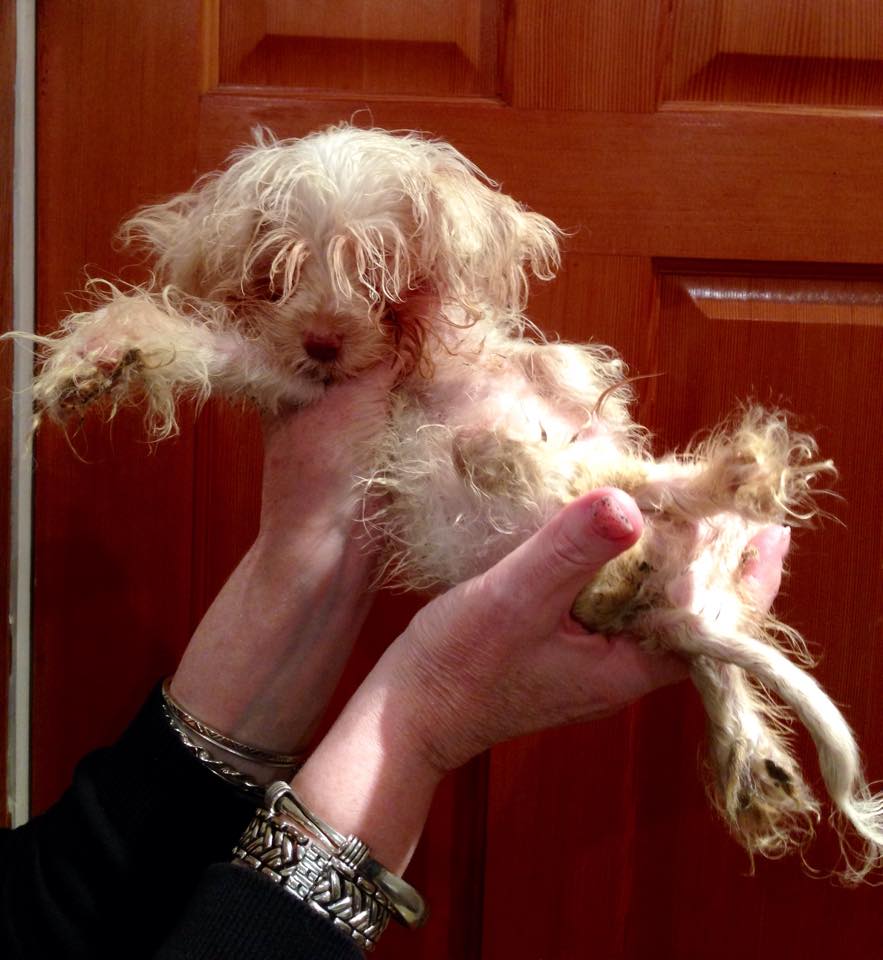 With so many dogs in shelters, why choose the ones with the most severe medical issues? 
After a year of helping the shelters and building a relationship, the shelters called me if I could help with a medical case. How can I say no if they tell you that the dog will be put to sleep? If a foster steps up, I will search for a dog for them to foster in the shelter system. We make a commitment to the dog no matter how severe the treatment plan is needed.
What would you like people to know about rescue dogs?
Rescued dogs know they are getting a second chance especially from the shelters. Medical dogs are so thankful NOT to be in pain. There are very special people who adopt a special needs dog. These people are touched by God and given angel wings before they enter heaven.
Aside from adoption, how can people get involved either with your organization or in their own state/area? 
It is never to late to learn. I changed as a person entering the shelters for the first time.  Go do blanket drives. Go foster and volunteer at Rescues and Shelters.
Our rescue is always needing help (donations) with all the medical dogs we rescue.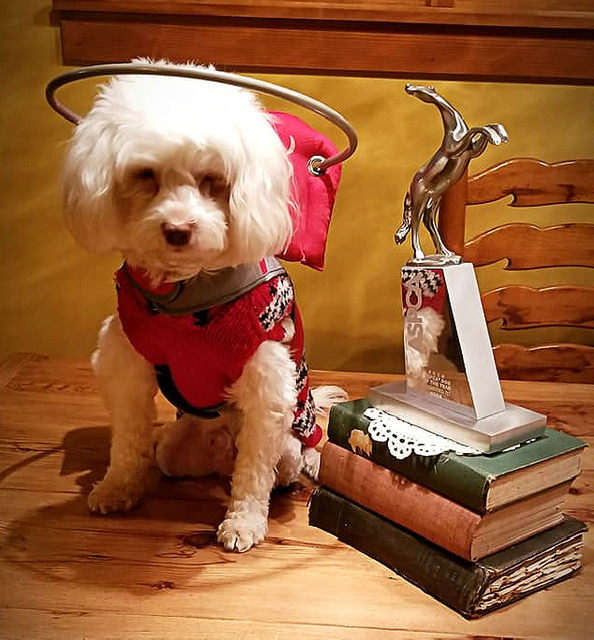 Tell us about your own pets. 
Simon Sez has since passed.  His memory lives on in the rescue.  All my dogs have been rescued by me… I never planned on keeping them.  They just never left my house!!!  I love my fosters like they were my own.
What's one adoption success story that sticks out in your mind? 
I have three cases.  These cases were severe medically.  A little Yorkie named Andy.  He had a severe broken leg.  When we rescued him, I asked the vet NOT to amputate his leg.  He spent hours saving Andy's leg.  I named the dog after the vet who saved his leg.  Andy lives in a penthouse in Georgetown, Washington DC and has his own passport.
I was called about 3 deformed puppies. They were malnourished weighing 2-3 lbs at 5 months old. With love and care, they grew quickly. The worse is Noah, no eyes, deformed legs.  All  3 puppies were adopted.  Noah became the Anti-Bully dog and was awarded the ASPCA Dog of the year.
The final is Liberty.  The shelter called me regarding a breeder surrendering a 12 week old Yorkie puppy with neurological issues.  If I could not take her, the shelter would have to put her to sleep.  I rushed and picked her up.  We took Liberty for several tests with specialist.  With the help of Hallmark Home & Family, Liberty found a loving family in New York City.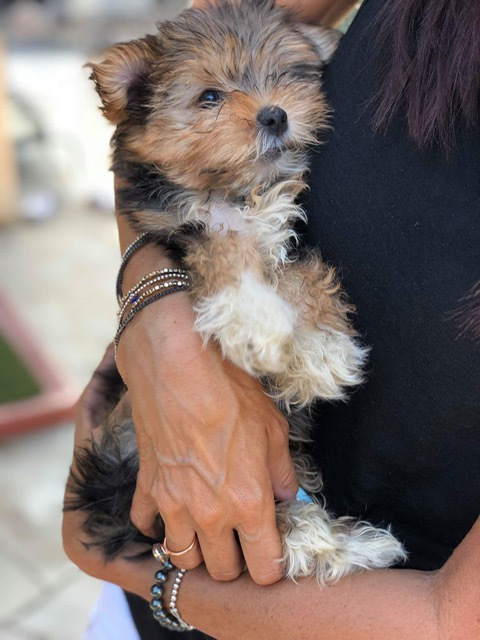 How do you use social media to spread the word of Saving K9 Lives Plus? 
Thru social media, we raise funds and awareness of the dogs that we rescue. Right now we are having a special event called Rock n Woof.  It has been 3 years since our last fundraiser.
Tell us about your upcoming Rock N Woof event. 
On Feb 2, 2019 at the Historical Women's Club in Santa Monica. It is a masquerade concert with legendary musicians who have a passion to help animals.  Bobby Kimball, original lead singer of Toto, is the co founder of Saving K9 Lives Plus.  Rudy Sarzo, bassist with The Guess Who networks shelter dogs.  Frankie Banali, drummer with Quiet Riot, loves senior dogs. Brent Carter, singer of Average White band, loves cats and dogs.  Ellis Hall, singer Tower of Power wrote a song for his dog.
The evening will start with magic with Rafael Gomez.  Hosted by Larissa Wohl from Hallmark Home & Family.  The auction is with Gretchen Bonaduce ( actress) and Hilary Cruz (Miss Teen USA).  It will end with Christine Devine (Fox News Anchor).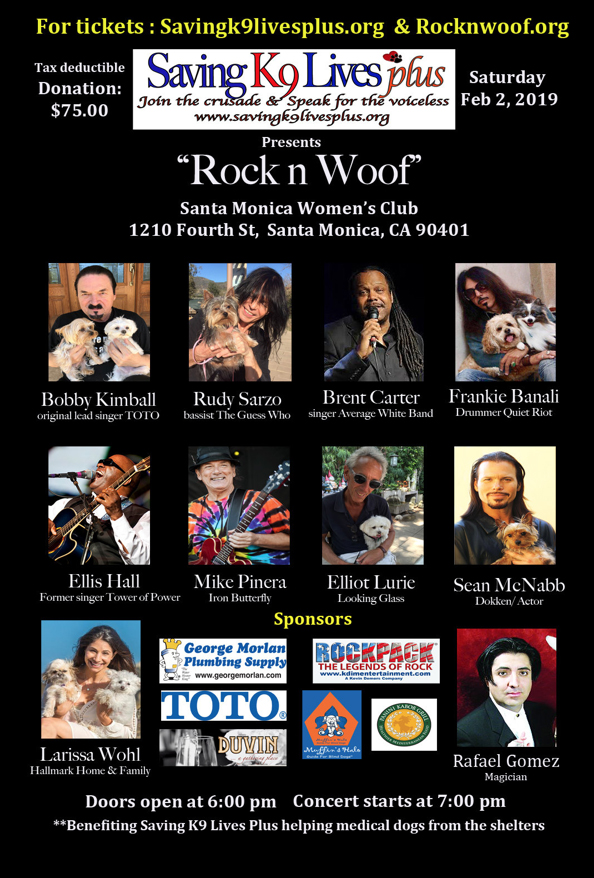 When you aren't working for the dogs, what do you like to do to relax and recharge? 
I chill out and escape from reality on Netflix!
What's it like working with your husband? 
Bobby lives in his music world, but he loves the dogs.  Bobby was the one who wanted to do the concert!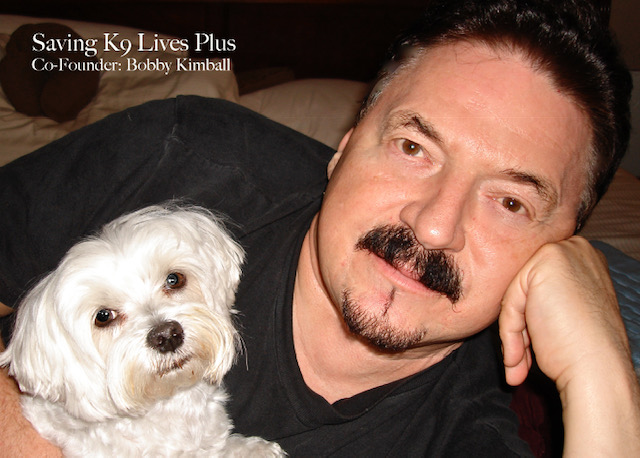 Where do you see Saving K9 Lives Plus going in the future? 
I do not know.  The best thing would be NO MORE DOGS IN THE SHELTERS! I can find a new career!
What's one thing you can't leave home without? 
My cell phone.  My day may change by one call!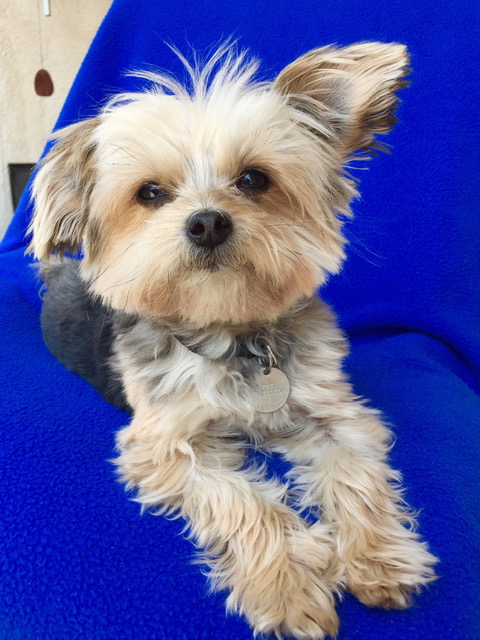 Number one beauty tip? 
I was glamorous when I was young.  I don't have time for makeup.  Beauty shines thru your soul.  Keep your body healthy so you can continue doing good.
Heels, flats or sandals? 
Living in sunny California, I am always in sandals! I love high heels but my feet refuse to walk in them!
Words to live by?
Be good to people and trust in god.
**Please also post the Rock N Woof Flyer as one of the pictures with her interview **